Weddings
One of the most exciting developments in the wedding industry is the emergence of "Destination Weddings". The ease of international travel, intrigue of foreign lands and intimacy of destination weddings are all contributing factors to the dramatic rise in the number of couples choosing to marry abroad.
At Hotel Makanda by the Sea we specialize in designing and hosting tropical weddings and honeymoons. Coupling Costa Rica's breathtaking natural beauty with elegantly designed villa and studio rentals, Makanda by the Sea is a perfect destination for your romantic getaway. We can design a ceremony for just the bride and groom, or reserve the entire hotel for an intimate mix of your family and friends.
We pride ourselves in creating a one of a kind environment here in Manuel Antonio offering our clients the best in personal service and romance in nature. Our trained staff will shower you with attention from the conception of your ceremony to it's completion. We invite you to visit and browse through the following wedding information pages and look forward to answering any specific questions concerning our property, services, or your upcoming Costa Rican wedding in general.
Your wedding!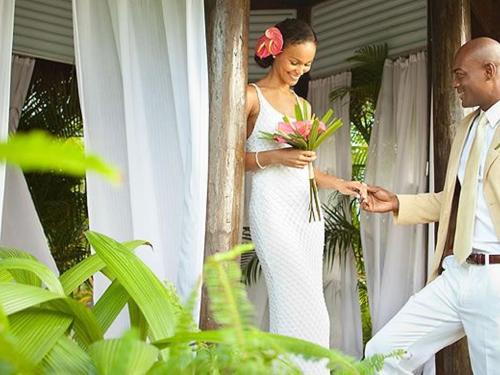 Weddings are an ancient tradition that easily marks one of the most important events in a person's life. It's a celebration of the joining of two friends by making an outer acknowledgment of an inward union of heart, mind and spirit, and thus should be celebrated in a style that will be remembered forever. In an age when so many weddings are "cookie-cutter," and they all seem to blur in terms of style and venue, the destination wedding is an exciting option that can help your special day to be remembered for a lifetime!
A wedding, even in the most traditional style, is often a source of stress. However, savvy couples in recent years have started to combine their nuptials with exotic holidays, creating an event that can be enjoyed by everyone in attendance, and leaving the details to someone else. This is truly cause for celebration!
World-Class Options for Weddings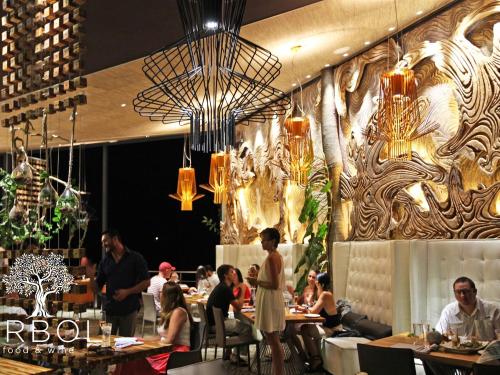 Manuel Antonio, one of the most beautiful areas of Costa Rica, offers the ultimate destination for people seeking the most memorable of weddings or elopements. Hotel Makanda by the Sea is exclusive resort, creating the ideal setting for the exchange of vows. Our 27 elegantly designed luxury accommodations with vaulted ceilings, hand crafted tiles and exotic hardwoods, not to mention all the amenities and dazzling ocean and rainforest views, will take your breath away.
Though the natural beauty and intricate design helps define Makanda by the Sea, perhaps the most important quality is our dedication to service. Makanda proudly boasts its own on-site wedding planner, who will work with each couple personally to ensure an unforgettable wedding, elopement, or romantic getaway. Whether you are planning an extravagant ceremony, an intimate family gathering, or a private escape to paradise, the staff at Makanda is at your disposal to attend to every detail. Our restaurant, Arbol, makes the perfect location for your wedding celebration:
- exclusive interiour design of the resturant as a guarantee of the special athmosphere
- customized for your celebration top-of-the-line menu
- up to 120 seats in the restaurant
- huge screen for photo-video of your romantic story or art performance
- professional acustic system
guaranteed to satisfy even the most sophisticated palates, you will know you have found the perfect way to toast the couple's eternal happiness.
Both the wedding couple and their guests will appreciate the varied activities available, with adventurous options such as fishing, surfing, whitewater rafting, horseback riding, kayaking, sailing, hiking, and other sports that allow them to make the most of their exotic getaway. If relaxation is a priority, guests can choose to lounge by Makanda's infinity pool, on Makanda's own secluded beach, or amazing SPA-day. This means that everyone has an opportunity to relax and re-charge, no matter what their vacation style. We love the impact that Makanda has on our guests, and a comment frequently heard is, "Perfection! Thank you! The most spectacular time we've ever had. We'll be back!"