Manuel Antoni Park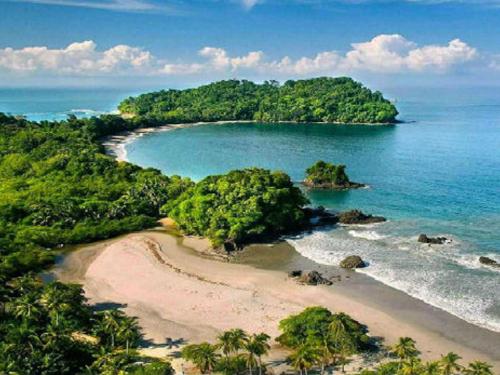 Established in 1972, Manuel Antonio National Park is Costa Rica´s smallest National Park with only 683 hectares in land mass and protected Marine Reserves.
This important zone has been saved by the Costa Rican government to share with future generations, as it is undeniably one of the most beautiful and bio-diverse areas in the World. Manuel Antonio and its surrounding areas contain an incredible combination of rain forest, beaches and coral reefs. This park´s beaches are easily some of the most beautiful in Costa Rica, lined with lush green rain forest, and offering excellent snorkeling opportunities.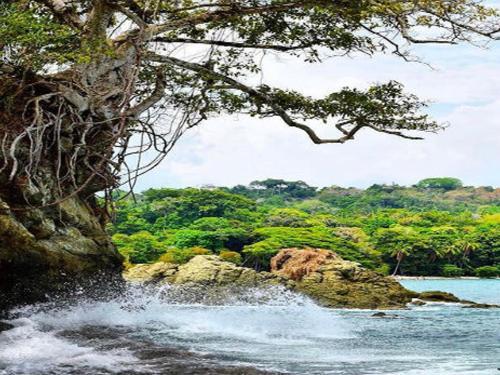 This jungle habitat is home to a host of exotic animals including 2 species of sloth, 3 species of monkeys, iguanas, birds, colorful little crabs and an incredible list of interesting insects and reptiles, just to name a few of the park´s wonders. The trail that winds around Cathedral Point affords some of Costa Rica´s most spectacular views. The park is easy to reach, just follow the windy road south of the town of Quepos and following the signs on the main road you will end not only at the park entrance, but where you will find a wide variety of restaurants and colorful souvenier stands.
Exploring the park, visitors are treated to an abundant variety of eco-systems and exotic wildlife. Cathedral Point, with its forest topped cliffs, was once an island, but is now connected to the coastline by a thin strip of land. This natural land bridge forms the narrow stretch that separates the parks two most popular beaches, Playa Espadilla Sur and Playa Manuel Antonio. The varied environment also includes primary forest, secondary forest, mangrove swamp, lagoons and extensive beach vegetation, as well as featuring other popular points such as the blow hole at Puerto Escondido and the sea caves along Serrucho Point. There are also twelve islands that lie off the coast, which provide an excellent refuge for rare and endangered sea birds and represent an important nesting site for the Brown Booby and the Brown Pelican. To date, 346 species have been discovered in the Park, including 109 species of mammals and 184 species of birds, as well as an incredible variety of insects and reptiles, and rare possibilites to see the huge endangered Oliver Ridley and Green Marine Turtles.
For a detailed list of species found in our area, please click here: Animal & Bird List