Luxury Honeymoon in Manuel Antonio
Revel in your first moments as a couple at the exclusive Hotel Makanda by the Sea. The elegantly designed villas and studios offer each couple a luxurious accommodation from which to marvel at the stunning beauty of Costa Rica's Central Pacific Coast. The vaulted ceilings, handcrafted tiles and exotic hardwoods, invite the cooling Pacific breezes and brilliant sunsets in.
Relax in a bubbling Jacuzzi or lounge by the cascade of the infinity pool while sipping on one of our countless fresh fruit daiquiris. Breathe in the fragrance of tropical flowers and the wild sounds of the surrounding forest. Monkeys, sloths, brightly colored birds and flickering butterflies are always close by.
The Arbol Restaurant will take your breath away with its gourmet fare and attentive staff. Beneath the flowing curtains of tropical tents, dine on fresh seafood such as grilled jumbo shrimp, octopus and Pacific Coast Lobster. Treat yourself to a delicious seared breast of duck, rack of lamb, range fed steaks or one of the mouth-watering salads. Freshly baked pastries, chocolates, fruits and ice creams round out the perfect dining experience.
The seemingly artist rendered backdrop of the property combined with the attentive Makanda staff make for the ultimate honeymoon destination. The theme here is "Romance in Nature" and Hotel Makanda by the Sea is waiting to host you for an unforgettable romantic getaway.
Discover Honeymoons in Lush Costa Rica!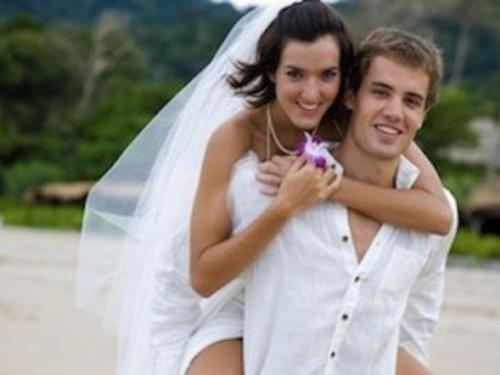 Costa Rica is a country already known for its many perfect white sand beaches and lush rainforests, making Manuel Antonio Park this country's #1 destination just for this reason. The wealth of flora and fauna, combined with an extensive array of exotic animals and birds, and the unusual existence of two completely different ecosystems available for you to explore, means that adventure and relaxation opportunities abound. As one of the top resorts in Manuel Antonio, Hotel Makanda by the Sea is able to guarantee you the best that Costa Rica has to offer, while dazzling you with stunning ocean views and natural rainforest landscaping. The goal at Hotel Makanda is to provide you unforgettable accommodations, at the level of service that you deserve, which is sure to mark the beginning of your life together in grand style.
Offering luxurious villas and suites fully equipped with all the amenities, as well as an award-winning restaurant located alongside our fabulous infinity pool, Hotel Makanda offers all of the privacy and serenity a honeymoon couple craves. Honeymoons are about getting to know each other, and Makanda's magical setting never fails to set the mood of "Romance in Nature" with a dash of adventure that will leave you with memories to last a lifetime.