Tour & Activities at Hotel Makanda, Manuel Antonio
Quepos, Manuel Antonio and their surrounding areas have something to offer every type of traveler. Whether your travel style is that of a nature lover, an adventure fanatic, or you are someone looking to de-stress, relax, and soak up the warm Tropical air, there is an activity sure to suit all of your needs during your Costa Rican vacation.
The Makanda staff are experts in which local tour options are the most popular and meet required safety standards, so allow us to help plan your excursions be it during your visit, or even better, we can make the arrangements in advance. We invite you to contact us and our staff will be happy to explain in detail the many options for tours and activities, as well as costs, departure times, and what you'll need to take with you on each tour to help make the most of your vacation. Below are listed some of the many varied activities that you can choose from, all less than 45 minutes from Manuel Antonio, with most less than 20 minutes drive from the hotel. Transportation is included with all tours.
Manuel Antonio Park
Imagine a dream-like setting of white sand beaches set against exotic green rainforests. A place of azure skies and a sapphire ocean, where Whiteface monkeys swing through the trees, a lazy sloth rests high in the trees, and countless colorful tropical birds nestle and sing among the jungle foliage. Imagine a place where you can get away from it all, and tune back into what is important...namely you. This is no dream; this is Costa Rica's celebrated jewel destination, Manuel Antonio National Park. Located just south of the sport fishing mecca of Quepos, on Costa Rica's central Pacific Coast, this park is world-famous for being a true haven for an unending list of exotic wildlife. It's a place where the flora and fauna of South America meet that of North America, creating an incredibly diverse biosphere known as the jungles of Central America, and more specifically, Costa Rica.
Next, take the dream one step further. Into the midst of this tropical paradise, insert a luxurious getaway, an oasis of fine living and well-appointed accommodations. Imagine going beyond the stresses of everyday life, and finding peace and fulfillment within yourself while being pampered with the good things in life such as stunning ocean views, in-room massages, chilled champagne and rose petals, as well as world-class service from an unobtrusive friendly staff. Picture feasting on world reknowned fresh cuisine elegantly served to your villa or enjoyed poolside as you gaze over the infinity edge to the deep blue Pacific Ocean. It's a place that rings "Romance in Nature," where you can completely let go, and rediscover your true inner peace. Welcome to Hotel Makanda by the Sea!
A Luxurious Retreat near Manuel Antonio National Park!
Everyone dreams and lives differently. To some, an ideal vacation is full of adventure and would include sport fishing, hiking, kayaking, white water rafting, and possibly horseback rides through the rainforests or on the beach. To others, the chance to lounge in the sun, on perfect white sand beaches gazing at the dozen little islets just off of Manuel Antonio's coastline, or sunbathing beside a gorgeous infinity pool ordering tropical drinks would be a heavenly holiday not soon to be forgotten. Still others dream of simply drifting away in their hammock, chasing a dream-within-a-dream, in the view of curious jungle inhabitants, or while watching the golden sun drop below a liquid horizon, with no one to bother them. If one of these are your dreams, then you really have found Heaven.
Makanda by the Sea is famous as the top-rated boutique resort located near Costa Rica's famous Manuel Antonio National Park and Beaches. We know what it takes to restore passion to the spirit, and we make it our goal to fulfill that inner need to escape from it all. Our luxuriously appointed villas and studios come fully equipped with cable TV, CD players, telephones, hair dryers, mini-bars, full kitchens, and all the small amenities that let you know you are in a first class resort. Our boutique property consisting of only 11 units total offer the privacy, peace and quiet, and comfort you deserve.
Whether you are honeymooning, on your anniversary, celebrating your birthday, or just looking for a romantic getaway, you will love our blend of tropical elegance with a dash of adventure, combined with the true joy of being pampered in such an exotic setting. So whether it is relaxation, adventure, fine dining or a mix of the above that you are looking for, you will always know that there is a place just for you. A place where you will be treated like the treasure you are, a place where body and soul can rediscover energy and delight. Come join us at Hotel Makanda by the Sea, where our concept of "Pura Vida" awaits you!
ATV Quadra Cycle Tours
This is one of Manuel Antonio's most popular tours, offering a great way to see the local countryside. Your guide leads the way along back roads, while taking you through African Palm Plantations and typical rural farm towns. Swim in a spectacular waterfall, cooling off in one of the natural water pools while enjoying incredible views of Costa Rican's Central Pacific Coastline. This tour includes transportation to and from your hotel, professional bilingual guide, breakfast or lunch, 4-wheelers with helmet included. We recommend you take suntan lotion, bathing suit, long pants or shorts, closed shoes, mosquito repellent and camera. Physical Demand: Moderate.
Sport Fishing
It is only a short distance from Quepos to the fishing grounds for inshore angling. This is not only a relatively inexpensive option, but offers great views of the coastline. This fishing adventure lasts approximately 4 hours and is reserved in accordance with the marine tides. The Quepos and Damas Island areas are recognized for their excellent inshore fishing along river mouths, as well as in the local mangroves. Local fishermen use small boats known as "pongas", and a maximum 4 anglers are allowed per boat. Common species caught are: Snook, Red Snapper and other local freshwater fish. Your excursion includes transportation, guide, drinks, beer, and fishing tackle. We recommend you take a hat, sunscreen, and a waterproof camera.
Inshore Fishing
Offering an exclusive Boutique sized atmosphere, Hotel Makanda by the Sea has served as one of anglers' most luxurious lodging and dining options in Costa Rica for more than 24 years. Makanda is located only 2.5 miles South of the world-famous fishing town of Quepos, 1 mile West at Café Milagro. Quepos is one of the World's most recognized sport fishing locations. Many record Billfish, Marlin, Snook and other species have been caught in our local waters. Marlin Magazine titled Quepos as one of the best locations in the world for "all around action."
The offshore reefs host the most popular choice for most anglers, Billfish, and they are rarely disappointed from the month of December and continuing through as late as April. Fishing is generally good year round, so do not feel that these are the only months worth the trouble. A typical full day of fishing often consists of releasing several Sailfish and often a Marlin or two, although anglers often release more than a dozen Sailfish in one day. Throughout the year you can also count on a steady assortment of Dolphin, Giant Yellow fin Tuna, Wahoo, Cubera, Roosterfish, a variety of Snapper, Grouper, both Blue and Rainbow Runners, Snook, Jacks, Mackerel and many other species. Boasting more than 70 current IGFA World-record fish from Costa Rican waters, including 17 all-tackle records; your ultimate fishing vacation is waiting for you at Makanda by the Sea!
For more detailed fishing information, see our dedicated section on Sport Fishing.
Horseback Riding
If you enjoy horses, horseback riding is a great way to see and learn about the local ecosystem, as well as enjoy the wonders of nature. You are guided through the exuberant rainforest and gentle rivers, leaving time to take a dip in an unforgettably beautiful waterfall. Relax and enjoy the typical meal prepared for you at the end of your excursion. This tour gives you the opportunity to enjoy some of the most beautiful landscapes while riding through primary and secondary rainforest; you are guaranteed to see some of the best views of the valley and the surrounding tropical jungles.
This tour includes transportation, bilingual guide, snac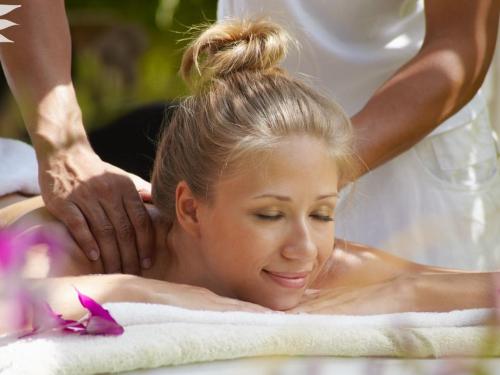 Vanilla Spice Tours
A privately owned and internationally recognized spice farm is located approximately 35 minutes from Quepos central. Booking a few days in advance is recommended, as the tour is run on a popular demand basis only. Spend approximately 2.5 hrs learning about the local cultivation of fresh spices and their distribution from a local farm to both national and international markets. There is a tasting time after the tour, as well as the opportunity to purchase some of these fresh off the farm spices. Tour includes transportation (if needed), guide, refreshments, and snacks. We recommend you take suntan lotion, sun hat/visor, sunglasses, comfortable shoes, mosquito repellent and camera. Physical Demand: Min
Rainmaker Reserve Tours
This tour is the perfect option for hikers and nature enthusiasts. Rainmaker Reserve is a privately-owned 3,000 acre nature reserve with a series of suspension bridges connected by platforms along the tree-top canopy. Professionally trained, bilingual guides carefully lead you through the reserve taking time to explain the many plants, insects, birds, snakes, and other animal sightings, as well as the purpose of this important guarded reserve. Visitors will have the opportunity to take a dip in one of the waterfall pools during their hike. This tour includes refreshments, snacks and a wonderful typical Costa Rican lunch in their "rancho." We recommend comfortable clothes, hiking boots or tennis shoes, sunscreen, insect repellent, a swimsuit, towel, and camera. Physical Demand: Moderate.
Butterfly & Reptile Gardens
Located less than 1 mile from Hotel Makanda, this informative tour is hosted by professionally trained bilingual nature guides. Visitors have the opportunity to see over 20 species of butterflies on this guided one-hour long tour. Guests can also choose to visit their reptile gardens for a nominal added fee. Tours our available daily, leaving each hour. We recommend you take sunscreen, comfortable shoes, insect repellent, and a camera. Physical Demand: Minimal.
Surfing Classes
Now is your chance to surf like a pro, even those that have never attempted this exciting sport. All classes are taught by local surfers who know the waves and want you to master the task of standing and surfing. Local beaches offer varying sizes of waves to accommodate both beginners and pros. The Manuel Antonio area hosts many surf tournaments each year and has spawned several surf champions. Classes include transportation, surfboards, guide, surf shirt, snacks and drinks. We recommend you wear your swimsuit and take sunscreen, towel, camera, and dry clothes (optional). Physical Demand: Moderate to High.
Scuba Diving
Certified scuba divers or adventure seeking beginners will enjoy excursions to the rock formation and reefs off the shores of Manuel Antonio National Park. Professional bilingual PADI-certified dive masters give you professional and in-depth instruction as they lead you through the intricacies of the undersea world. Safety is emphasized and proper equipment is provided. Extensive Discover Diving beginner classes are available, as well as renewal sessions for those whose certification has expired or who need a refresher course. The trip includes transportation, dive equipment, guide, drinks and snacks. We recommend taking a bathing suit, sunscreen, towel, waterproof camera, and dry clothes (optional). Physical Demand: Moderate to High.
Canopy Zipline Tours
The Canopy Safari tour takes you to a spectacular river and mountainous location providing outstanding views of the verdant jungle. Waterfalls provide the backdrop for numerous platforms carefully built in the canopy of the Rain Forest. You will glide from platform to platform while secure to a cable, traveling over the rainforest and creeks below. Experience the ultimate eco-adventure with 17 platform, 9 zip-lines, 1 hanging bridge, 1 jungle Tarzan rope, 3 rappels and a walk through their butterfly and snake exhibit.
Tour provides the transportation, breakfast or lunch, snacks, trained bilingual guides and all equipment. We recommend taking tennis shoes, comfortable short or long pants, repellent, and camera. Physical Demand: Moderate/Age Restrictions. Tour duration, including transportation, is approximately 5 hours.The Titi Canopy Tour takes you through both Primary and Secondary forest, where you can enjoy different types of animals, birds, insects, and plants all while zipping at top speed through the rainforest. Come and enjoy the 12 platforms and gorgeous views all located just 15 minutes from the hotel! Transportation, guides all equipment and snacks are included. We recommend wearing tennis shoes, comfortable short or long pants, and taking repellent and a camera. Tour duration is about 2.5 hours. Physical Demand: Moderate/Age Restrictions.
Whitewater Rafting
Truly for the adventure seeker, experience some of the best white water rafting found in the World. Costa Rica's wild and untamed rivers descend through beautiful untamed tropical wilderness. Enjoy our local rivers whether an expert or a beginner, the nature lover and thrill seeker will take over as the first adrenaline rush hits you.
The Class III/IV Half Day excursion is for more experienced rafters and adventurers. The Naranjo River drops steeply from the mountains above Quepos, though a beautiful jungle gorge and takes you on a wild ride to sea level passing nearby farmlands and palm plantations. Rafters should be physically fit and ready to paddle.
The Class II/III Full Day adventure includes a journey into the very remote back country of the Savegre River for a 4 hour guided rafting trip. There are great swimming holes and a large variety of birds to see on this excursion. Lunch is provided riverside part way through the trip. This is designed for the true adventure lover that just can't get enough excitement!
Rafting excursions include transportation, guides, snacks and beverages or add lunch for the full day tour. We recommend that you take suntan lotion, bathing suit, waterproof camera, closed footwear (no flip flops), a towel, dry clothes to change to after the trip, as well as a plastic bag for your wet clothes. Physical Demand: Moderate to High. Age restrictions may apply.
Mountain Biking
For the biking enthusiast, a wide variety of tours are available to accommodate almost any level experience or conditioning. Tours take you through the rain forest, local farms and some tours will pass the beaches. This can be a great way to see a variety of local wildlife, as well as typical rural Costa Rican life, depending on the area you visit. Many tours include time to rest and swim in the crystal clear waters of a remote waterfall. Some of our tours take you to rural "TICO" homes or typical ranches where delicious home cooked meals are served to restore your energy. The tour includes light weight aluminum specialized Marin and GT bicycles equipped with front Rock Shox suspension and Shimano components and helmets. We recommend that you take tennis shoes, short or long pants, repellent, camera, bathing suit and a towel (optional). Tours include water, sports drink, equipment, snack, and possibly lunch. Transportation to the offices is not provided. Physical Demand: Moderate to High.
Kayaking Trips
Kayak the open Ocean if you are up to one of the more challenging excursions along Costa Rica's most beautiful coastline of Manuel Antonio. See nesting sites for boobies and frigate birds as you paddle by nearby offshore islands. Swim and have snacks in an isolated bay. Transportation, bilingual guide, fruits, snacks, beverages, and lunch at the end of the trip are included with the tour. You can also choose to kayak on your own by renting kayaks off the main Manuel Antonio beach